DELUXE FACE PAINTING GALLERY
​4 - 5 minute designs
Hire the Best.
​Your Memories Deserve It!
Remember to have your camera ready!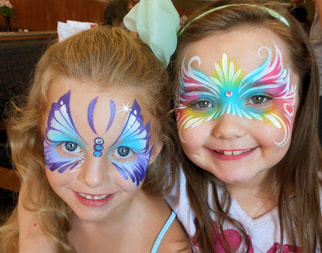 Your child's birthday party or event is about creating memories. I can help you create those amazing memories that will put the "WOW" into your guests eyes! Even after the designs are washed away the memories will last a life time with each photo.
As you look through the galleries you will notice that face painting isn't just for kids to enjoy. Adults love to join in the face painting fun! So don't forget them when you plan your next party or event
Waterproof Face Painting!
Now you can have face painting that won't sweat off or come off in the pool or on hot summer days. Please let us know if you require Waterproof Face Painting
Black Light Face Painting!
I can use my black light face paints to make your next event glow under black light!
Art work by Kathy - owner of Premier Face Painting.
Below are examples of my 4 - 5 minute designs.

We can accommodate 10 -12 kids per hour doing these kinds of designs